Apply loan
@ low interest rates
A loan is a financial arrangement in which a lender provides a specific amount of money to a borrower, who agrees to repay the loan over a set period of time with interest.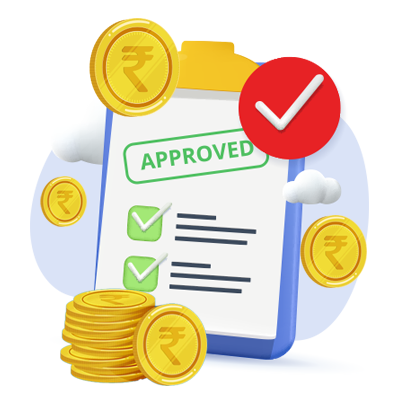 Loans come in various shapes and sizes, catering to specific needs and circumstances. This section will delve into some common types of loans
A loan is an amount borrowed from a bank or any other financial institutions by an individual at the time of any planned or unplanned financial commitments. In return, the individual has to pay back the entire sum with interest at a specific interest rate. The interest rate is pre-decided while applying for the loan. The three main specifications in the concept of loan are – Principal amount, Rate of Interest and Tenure period. A loan is a primary business for banks and other Non-Banking Financial organizations.
What are the benefits of a loan?
Flexible repayment – The EMI options available in the market are structured in the way that it is beneficial for the customer to repay the amount in parts. 
Tax benefits – The interest money involved towards repayment of certain loans are eligible for tax deductions under Income tax Section 80EEA. In some cases, even the returns paid for the loan is excluded from tax calculations.
Interest rate – The loans are approved at a very affordable rate of interest. 
Processing time – Processing of time for loans nowadays with liaison sites such as FinFortune at the forefront has considerably reduced. Your loan request will be sanctioned within a day or two after applying. 
Personal Loan 
A personal loan is a type of installment loan that individuals can borrow from a bank, credit union, or online lender. It is typically an unsecured loan, meaning it does not require collateral such as a house or car to secure the loan. Personal loans are designed to be used for various personal expenses, such as consolidating debts, covering medical bills, funding home improvements, paying for a wedding or vacation, or any other legitimate personal need.
Home Loan 
Owning a home is not just pride but also a huge asset to an individual. Rather than wait endlessly applying for a home loan offline, it is better to apply for a loan from your living rooms in a few clicks. At FinFortune, you can choose from a wide range of home loan options from various banks and financial institutions. The property can either be for personal or commercial. We ensure you get the best offers on home loans from all leading banks and other financial institutions. 
Gold loan 
It is a loan taken against gold jewels. A certain amount of gold is submitted as collateral for the loan amount requested. The loan amount sanctioned depends on the market rate of gold while applying for the loan. The individual has to pay back the principal and the interest rate amount to get back the collateral gold jewels. The amount received as a loan can be used for any purpose. The freedom of loan amount usage is an advantage in a gold loan, whereas the loan amount obtained from other types of loans have constrained usage. 
Car loan
Cars have evolved from being a luxury commodity to essential. Buying cars is no longer an unachievable dream. Individuals can easily apply for a car loan in a few clicks with minimal documentation provided they satisfy the eligibility criteria. Car loans are like a low hanging fruit that is indeed available to anyone provided they satisfy a preset of criteria fixed by the financial institution. 
Bike loan
Your bike is not just a pride but also one of the safest and quickest modes to commute. Bike loan can help you be the proud owner of your dream bike. Usually, the bike loan amount can cover 100% of the bike's price along with the safety equipment and insurance policy. The processing fee involved in bike loans is very minimal compared to other forms of loans. 
Business loan
Whether you want to expand your business, revamp the existing ones or increase your working capital, there's business loans to assist you in every phase. You can claim the loan at the most affordable interest rate as there are multiple players in this segment. With FinFortune, you can get to see, compare, and analyze quotes from multiple banks and choose the one that suits you the most. With flexible EMI options, you can easily repay the loan in a few years time. You need not submit any collateral for business loans. 
Loan against Property (Mortgage loan)
Loan Against Property is a secured loan. You can avail this loan by mortgaging your assets such as your house or commercial property. As it's a secured loan, the bank reserves the right to legally put your property up for sale, if you are unable to repay the loan amount. We at FinFortune have streamlined the process of applying for Loan against your property by enabling you to compare the best quotes from all the leading banks and other financial institutions.
Short term loan
Short-term instant loans, also known as payday loans or cash advances, are small, unsecured loans that are typically repaid within a short period, often on the borrower's next payday. These loans are designed to provide immediate financial relief to individuals facing unexpected expenses or cash flow shortages.
Credit Score: A good credit score indicates your creditworthiness and affects your eligibility for many loans.
Income and Employment: Lenders assess your income stability and source to determine your repayment capability.
Age and Residency: Your age and residency status may influence loan eligibility.
Existing Debts: Lenders evaluate your existing debt obligations to ensure you can manage additional loan repayments.
Documents Required for Loan Applications
Common Loan Documents:
Identification Proof: Valid passport, driver's license, or government-issued ID.
Proof of Address: Utility bills, rental agreements, or other official documents.
Income Proof: Payslips, tax returns, bank statements, or employment letters.
Asset Documentation: Property documents, vehicle registration, or investment details.
Bank Statements: Reflecting your financial transactions and stability.
Credit Reports: Provide a comprehensive overview of your credit history.
Additional Documents for Specific Loan Types:
Home Loans: Property documents, construction plans, and property valuation reports.
Auto Loans: Vehicle registration, insurance, and purchase invoice.